Thatching Services

Welcome to SJ Eccles & Sons Master Thatchers, Serving you throughout the UK since 1980.
We are a well-established small, reputable firm of Master Thatchers.
All types of thatching services are undertaken.
We have contracts with Greene King and Everards breweries also insurance and private contracts and have worked closely with English Heritage and The National Trust.
Free roof surveys and quotations are included in our extensive range of services. Thatching advice is at no extra cost, so please do not hesitate to contact Stuart by either phone or email.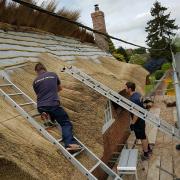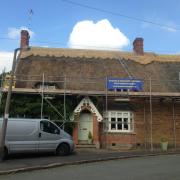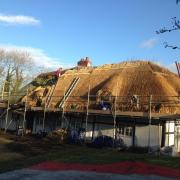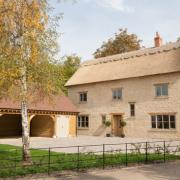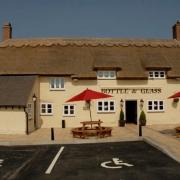 Re-thatching Ridging Coating New Build Thatching Commercial Thatching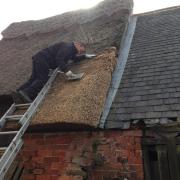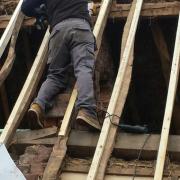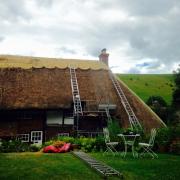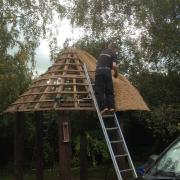 Thatched Roof Repairs Timber Work De-mossing Netting Summerhouses
You can expect a thatched roof to last for a long time, with some varieties lasting for 60 years or more, but if you own an older property, the time may be right to get the thatch replaced.
Thatching is one of the more durable roofing materials available, but it can eventually succumb to decay. The damage will not only detract from the character and appearance of your property, but will also leave it exposed to the elements.
If you spot signs of wear and tear on your thatched roof, it's worth calling in the professionals for a second opinion. SJ Eccles & Sons Master Thatchers have re-thatched all manner of properties from small cottages to large period homes.
We can fully or partially re-thatch your property to a high standard, at a competitive price. To ensure the safety of your roof, we recommend and provide a number of effective fireproofing solutions, including aluminium barrier foil, thatchbatts and fire retardant spray. Click here to learn more about our fire protection products.
Sometimes, the most cost effective option would be to have the roof re-thatched from start to finish. We pride ourselves on offering a transparent service, making clients aware of all the options they have, allowing them to make an informed decision.
We're committed to providing the highest standards of workmanship with every project.
If you're considering have your roof re-thatched, your first step should be to give SJ Eccles & Sons a call. We're confident we can restore your roof to its former splendour, at the right price.
Historically, thatched roofing has been used extensively in home construction, thanks to its style and durability. Today, this iconic, quintessentially English style is enjoying a resurgence, with many homeowners choosing it for their new build properties.
However, the once widely practiced skill of thatching has now become a specialist practice. SJ Eccles and Sons is a family-run business offering professional thatching, incorporating traditional techniques. As independent contractors, we pride ourselves on offering a friendly, personal service with the very best in workmanship and value for money. We can lend our services to a wide range of thatching projects including:
Complete re-thatching
Coating
Ridging
Patching
Repairs
Netting
Surveying
Summerhouses
Areas Covered


To ensure we achieve first-class results for our clients, we only work with the highest quality thatching materials, including combed wheat straw, long straw and water reed. Click here to learn more about the materials we provide.
As part of our service, we offer a free, in-depth survey to assess your requirements. Once we have established your needs, we will offer a competitive quote, without obligation. If you're in need of advice at any stage in your project, we'll be happy to impart our expertise at no extra cost.
Aside from domestic properties, we carry out contract work for the Greene King and Everards breweries. Insurance work is also undertaken.
If you have any enquiries about our thatching services, or re-thatching please don't hesitate to contact us.
Please click the Links below to either call or email us.